Theatre On Skates Academy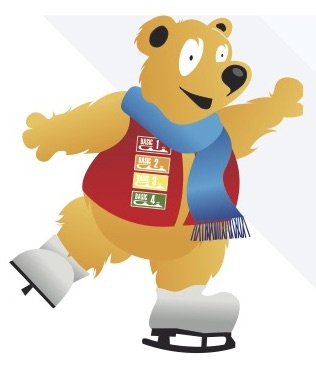 Learn To Skate Registration
Come Skate With U.S.

Our Learn To Skate program introduces the developing skills for figure skating and theatrical stage performances as well as the basic skills to develop hockey and recreational skating.

Classes are available Monday through Friday (closed Tuesday) 12pm-7pm for all ages and skill levels (3 year olds through adults). Saturdays & Sundays 10:00 am - 6:00 pm. Rental skates are also available.
Coaches will evaluate the skaters throughout the Session, testing on the 5th week. Some skaters need longer at each level to master the skills, especially younger ones. Some may advance to higher level within the same Session. Our goal is to advance skaters at their own pace, but to also promote skaters who are capable of skating in higher levels.
Registration includes:

Professional group instruction with a Learn to Skate USA Instructor (Tots/Snow Plow Sam classes (ages 3-5) may vary in time depending on each child's time restriction).
Additional (45 min) practice sessions (LTS Skate Card).
Learn To Skate USA Membership ($25.00)
Rental Skates
Invitation to Participate in a Theatre on Skates Academy Group Performance Show.
Reserve your spot in a class today!

Skater of all ages and abilities are encouraged to join

No Experience Needed

We'll teach you how to skate

We'll teach you how to act, sing and dance

We'll teach you how to stand out on stage and perform
Please do not participate in our programs if you have been exposed to or have experienced symptoms of the COVID -19 novel virus within the last 14 days or have traveled outside of the country within the last 14 days.
Per the Illinois Department of Public Health (IDPH) RESTORE ILLINOIS plan, face coverings are required when in public. Everyone must wear a face mask that covers the mouth and nose when inside the academy and during scheduled lessons.
Beginning Skating


Pre-K (Snowplow 1,2,3) Ages 3-5
These classes use games and introduce moves to young skaters.

Level 1: Ages 6-8
Beginning skaters learn swizzles, glides, stops and 2 foot turns.

Beginner Adult/Teen:
Students will learn beginning stroking, stopping and crossovers.

Skating

Level 2:
Students will learn 1 foot glides, backwards swizzles, 2 foot turns and backwards gliding.

Level 3 & 4:
Students will learn advanced stroking, slalom, 2 foot spins, crossovers, 3 turns

Skating


Level 5 & 6:
Students will learn backward edges, one foot spins, t-stop, spiral, lunge and bunny hop.
Bridge Program

Level 5 & 6 Skaters will learn more advanced figure skating moves and techniques.